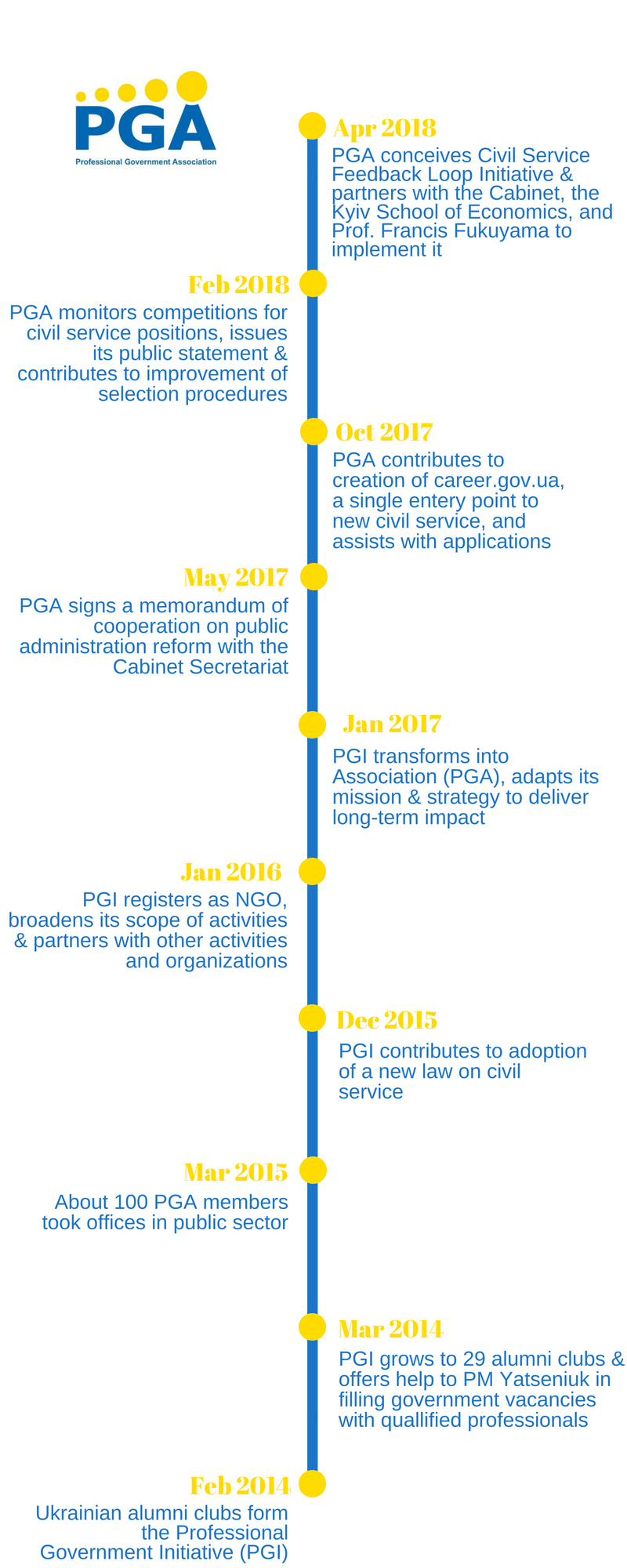 Open letter to the Prime Minister of Ukraine, A.P. Yatsenyuk, and members of the Cabinet of Ministers of Ukraine
Dear Arseniy Petrovych and members of the Government, 
We express our support for the preservation of the territorial integrity of Ukraine, and also welcome the appointment of the new Government of Ukraine. We are ready to help with the attraction of Ukrainian professionals with the foreign degree to the governmental positions, thus, helping to create high-quality governmental apparatus.   
We unite more than a thousand graduates of leading world universities who have returned to Ukraine and work here in leading international companies, NGOs, think tanks, financial institutions, etc. People with diplomas from Harvard University (USA), London School of Economics (UK), Business School INSEAD (France, Singapore), Columbia University (USA), University of Chicago (USA), Georgetown University (USA), University College Europe (Bruges, Belgium and Natolin, Poland), diplomas received in the framework of the EU Erasmus Mundus program, graduates of the Fellowship Program Edmund C. Mask and many others, in combination with their experience in the international environment, will make a significant contribution to the successful work of the new Government of Ukraine. 
At this historic moment of the most acute external threats, and at the same time, the renewal and revival of Ukraine, the Government of Ukraine faces significant challenges that will require systematic steps towards reformation of public administration as a prerequisite for overcoming external threats, successful fight with corruption and ensuring the economic prosperity of Ukraine. 
We propose the following ways of cooperation with the new Cabinet of Ministers of Ukraine: 
Formation of new teams in ministries and departments; 

Hiring full-time advisors (both for pay and free);

Conducting regular consultations and roundtables on urgent issues for the development of sectoral policies and improvement of ministries. 
We are asking the Prime Minister of Ukraine and the members of the Cabinet of Ministers of Ukraine to define, as soon as possible, the needs of each ministry in the new staff. 
We are ready to undertake the coordination of specific proposals from the Ministers concerning the staffing needs of each ministry. Proposals will be distributed among all graduate associations of leading foreign educational institutions in Ukraine. All CVs of candidates who are interested in positions will be transferred to the relevant ministries for final selection. 
We emphasize the need for maximum transparency in this process, and we will publicize the proposals received from the ministries and the results of the selection. According to these indicators, we will evaluate the effectiveness of our cooperation. 
We appeal to journalists and public opinion leaders to support and follow our initiative by providing platforms for its promotion and encouraging the Government to implement it. 
For questions of cooperation, comments, and suggestions, please contact the coordinator of the initiative Daniil Pasko at proukrgov@gmail.com. 
With respect and willingness to cooperate, 
Daniil Pasko

President of Harvard Club of Ukraine

Vasyl Myroshnychenko

Head of the London School of Economics Alumni Association

Ivan Verlan

Head of the INSEAD Business School Alumni Association

Natalya Gonchar

Head of the Columbia University Graduate Association

Tamerlan Vahabov

President of the University of Georgetown University's Graduate School in Ukraine

Oleg Akhtirsky

Representative of the Ukrainian Community of the University of Oxford

Konstantin Magaletsky

Head of the Association of Graduates of Business Schools: Ukrainian Global MBA League; Head of the Association of Business School Graduates of the University of Chicago

Yulia Klymko-Overchchenko

Coordinator of the Association of Graduates of the College of Europe in Ukraine

Olha Bosak

Head of the Club "Young Democracy"

Volodymyr Kurzyk

Vice-president of the Ukrainian Association of Graduates of French Educational Programs 

AUDES
Olena Chepurna

Coordinator, Erasmus Mundus Alumni Association

Ruslan Furtas

Head of the Association of Graduates of the Fellowship Program Edmund S. Muski

Olena Cherniy

Ukrainian Association of Graduates of Chevening Program (Great Britain)

Yuriy Kushnir

President of the Association of Graduates of the Canadian-Ukrainian Parliamentary Program

Alina Sviderska

Representative of the Cambridge Society of Ukraine

Tetyana Yaroshenko

Chairman of the Board of the Public Charity Organization Ukrainian Fulbright Kolo (UFK)

Martha Kolomiets

Director of the Fulbright Program in Ukraine